Skip to Content
Custom Roman Shades in Wyckoff, NJ
Roman Window Shades by Michael Felice Interiors
If you're considering roman shades for your home in the Wyckoff, NJ area, Michael Felice Interiors has custom solutions to match any décor. We are interior design specialists who understand the importance of every last detail in a room, right down to the blinds. Roman shades are one of the most popular windows covering choices because of their ease of hanging, functionality, and the various customizable options available. Whether your style is eclectic, contemporary, modern, or traditional, roman shades can be dressed up or down to complete the look of your home. Do you have questions about working with an interior designer? Visit our FAQ page to learn more about us and read below to find out about the benefits of roman shades.
Reasons to Choose Roman Shades for Your Home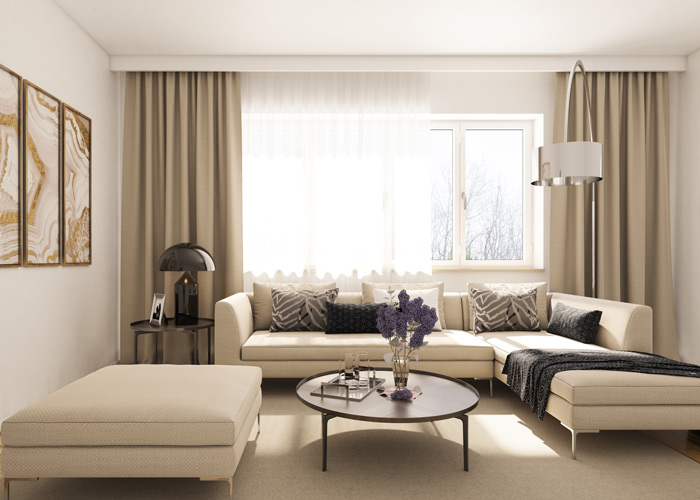 When looking at options for window treatments, homeowners are confronted with many choices. Since roman shades are one of the most popular, let's look at the reasons why so many choose this versatile shade.
Luxurious Appearance: From the simplest design on a cordless shade to the most intricately patterned motorized option, tailor-made roman shades have a tasteful and luxurious appearance that comes with every shade we put together.
Timeless Look: Roman shades have a long history as functional window coverings since the Romans started using them during the construction of the colosseum. But even though they've been used that long, they've never gone out of style and will look great in your home no matter the decade.
Customizable Options: Choose from the cordless or motorized operation. Decide whether you want to filter in a little light or completely block it out. Flat fold or hobbled fold? Combinations are nearly limitless.
Ease of Use: Solidly built and sturdy enough to withstand constant raising and lowering, roman shades are straightforward to use when you want to block out or let the light shine in, or just need a little privacy.
Color and Pattern Choices: Your home is unique to you, and your roman shades should be as well. There are countless color and pattern combinations available. If that sounds overwhelming, you have our interior design experts to consult with and help you decide on the perfect choice.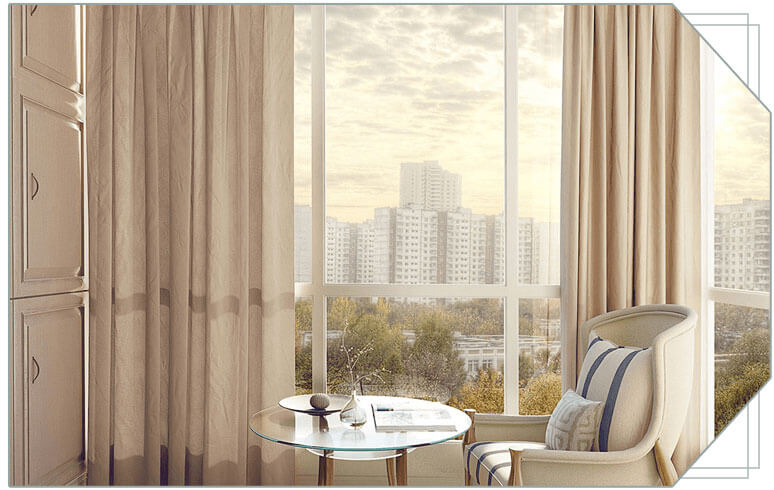 Enjoy the Beautiful Features Available with Roman Shades
Our premium roman shades come with various features to choose from. These options make operation simple while providing design choices that fall within your taste of style.
Cordless Lift: As the name suggests, cordless lift roman shades operate without a cord for a sleek look without any loose hanging parts. Operation is easy by simply raising and lowering with your fingers.
Continuous Cord Loop Controls: For heavier, larger roman shades, a continuous cord loop is an excellent option while still keeping the cord somewhat discreet and out of view. Instead of a hanging cord, the continuous loop cord is attached to the window frame or wall.
Hobbled Fold: In addition to the flat front look, Roman Shades are available with a hobbled fold that retains a slightly bunched appearance when down for a more traditional style.
Motorized Lift: For the ultimate in convenience, motorized lift installation allows you to open and close shades with the push of a button.
Premium Roman Shades Customized by Design Experts
Roman shades are a functional, reliable, and elegant window covering option with the versatility to match any home's style. Michael Felice Interiors offers tailor-made roman shades in Wyckoff, NJ that are fully customizable to our client's specifications. Whether you need to complement a minimalist style for letting in light or you're interested in a motorized roman shade for privacy in a contemporary home, our design consultants will provide you with everything you need for the perfect shades. Contact us to schedule a consultation or visit our showroom today.
Contact Us Today to Transform Your Home