Skip to Content
Popular Interior Design Styles in Wyckoff, NJ
Michael Felice Interiors Discusses Interior Design Styles
With varied preferences for furniture, window coverings, paint colors, and light fixtures, homeowners follow many different interior design styles in Wyckoff, NJ. The professional designers at Michael Felice Interior Design are here to share the basics to provide a better understanding of each one. Every person has a design style. You may not consciously make fashion decisions, but your taste and the choices you make when decorating a room reveal your style. The key to an attractive and gratifying interior design plan is to understand what your style preference is and stay consistent with pieces that complement each other. That's not to say you can't blend styles throughout your home or even in the same room. Read on to learn more about composition and contact the interior design specialists at Michael Felice Interiors with questions about designing the perfect home interior.
Learn About the Different Interior Design Styles
The wonderful thing about interior design is that there are style options for homeowners whose tastes don't entirely fall into one category, such as a traditional living room interior design or modern style living and dining room design. Transitional interior design styles include features of both. Or maybe you prefer a traditional style bedroom but enjoy an eclectic living room design. There are ways to achieve both tastefully. The first step is understanding the signature traits of each interior design style.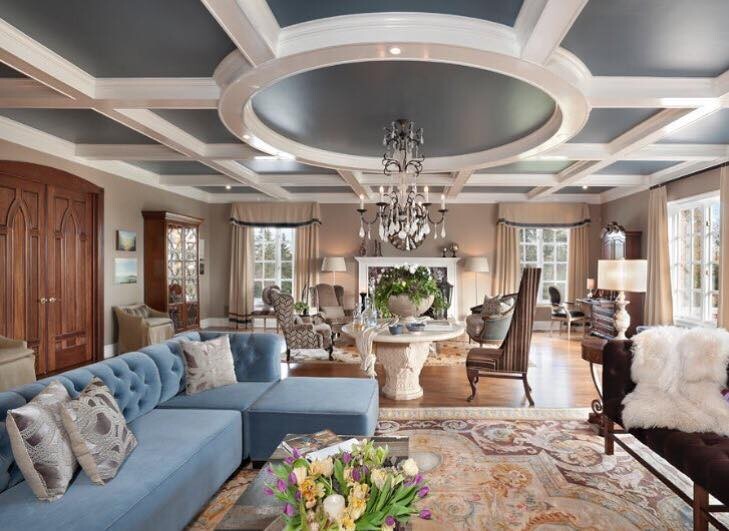 Transitional Interior Design – This is a contemporary style that blends classic traditional style with modern furniture, fabrics, and accessories. The result is a soothing blend that combines the best of both types without leaning too far towards one or the other. It's a trendy choice as it allows homeowners to enjoy selections from two diverse eras.
Traditional Interior Design – Ornately styled dark wood furniture pieces following the tradition of England and France in the 18th and 19th centuries are staples of traditional interior design. The elegant design of these tables, chairs, and couches is often paired with equally beautiful fabrics, such as linen, silk, or velvet, to complete the look. The entire style is unmistakably European.
Modern Interior Design – Modern design is distinguishable by its clean lines and sleek surfaces. Designers choose furniture and decorative pieces that are heavy on glass, chrome, and metal, but in general, décor is kept at a minimum, and color choices are simple. Don't confuse modern with contemporary, though. Modern design is a mix of Scandinavian, mid-century modern, and post-modern design that has been around since the middle of the 20th
Eclectic Interior Design – The word "eclectic" means to derive style or ideas from various and diverse sources. When it comes to interior design, eclectic doesn't mean taking anything you fancy and adding it to a room. While the furniture and decorative features may be unique, it still requires a keen eye for design to carefully tie them together and avoid anything that looks cluttered or distracting.
Contemporary Interior Design – Contemporary interior design combines a range of styles popular in the late 20th century. In the simplest definition, it's a style that incorporates a little bit of all that is popular now. Contemporary style will undoubtedly continue to evolve over the 21st century.
Why Choose Michael Felice Interiors for Interior Design?
You may be a person who is not entirely in love with one style or another. Maybe you enjoy certain aspects of two different interior design styles. That's OK! When considering options for colors, furniture, and décor, it's important to remember that your style can be a combination of two different style types. Our professional staff of interior designers can help you settle on the best choices for your home that will make great use of your space while providing an appealing design. You can view our work in our customer portfolio. Need more reasons why you can feel comfortable choosing us?
We are passionate about interior design
We're a locally owned and operated company
We offer productive client consultations
We make interior designing fun
Schedule a Consultation for Interior Design Services
Just choosing an interior design style for your home can be overwhelming before you even start to discuss furniture, paint colors, and accessories. At Michael Felice Interiors, we provide knowledgeable guidance for homeowners trying to decide on interior design styles in Wyckoff, NJ. Our consultative approach to design with clients helps them understand the difference between traditional, transitional, modern, and contemporary designs and what is essential to their tastes. We ask insightful questions that bring design preferences into focus. Visit our showroom or contact us to start a conversation about interior design ideas for your home.
Contact Us Today to Transform Your Home