Skip to Content
Home Design in Wyckoff, NJ
Total Home Makeovers from Michael Felice Interiors
While we pride ourselves on redesigning individual rooms, we specialize in comprehensive home design services. Throughout Wyckoff, NJ, we have helped clients establish their personality in each room of their home. We work collaboratively with you to develop a cohesive aesthetic based on your existing sensibilities and furniture. From artwork to reupholstery, nothing is off the table. Our comprehensive services can make an old home feel like something new altogether.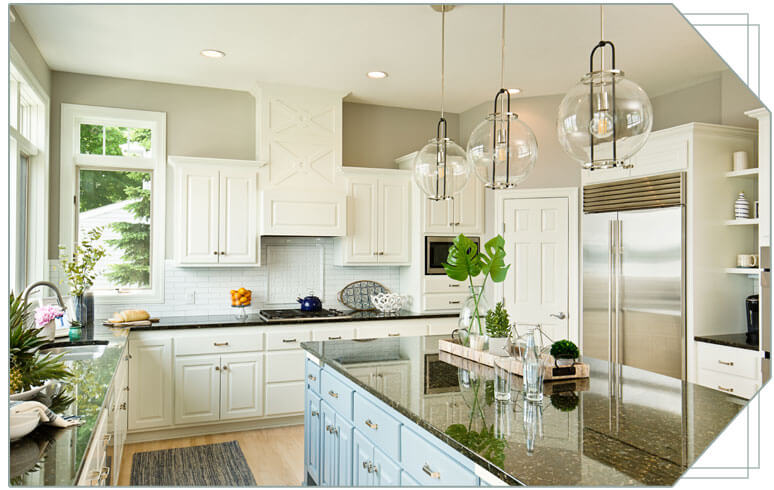 Why Hire an Interior Designer?
Hiring an interior designer to guide you through the process of revitalizing and changing your home will be one of the best decisions you have ever made. We have years of experience creating new living experiences for our clients. Because we fully-understand various design movements and styles – such as art deco and mid-century modern – we can identify what our clients want and get to work executing their vision. Most importantly, we understand the importance of providing options during a total home makeover. We're a team. And like every team, we have different sensibilities, something our clients have always appreciated.
Benefits of Working with the Professionals at Michael Felice Interiors
Designing over Decoration
There is a huge difference between the two. Decoration is only a small portion of what an interior decorator does. Designing, on the other hand, encompasses a broader range of skills. Most homeowners don't possess those skills, so hiring a professional is beneficial.
A Keen Eye
Anyone with half an interest in clothing can navigate a color wheel. But we do more than that. We use hues and tones in imaginative ways by combining furniture upholstery and paint color for an aesthetically-pleasing effect.
We're Connected
One of the benefits of our experience is our connections with suppliers and related companies. Through these connections, we can offer competitive pricing for furniture upgrades, artwork, and more.
We See the Big Picture
The most crucial component of any home design project focuses on the big picture while keeping an eye on the details. Every piece in every room must work together to form a cohesive role. Only a professional can tie these strings together.
Rethink How Your Home Looks and Functions Today
Home design is a rewarding process for all involved. Our clients leave the process with a brand-new house in the same location. The bones might stay the same, but everything else flourishes and changes. As for us, we never cease to find satisfaction in our ability to make our clients happy. Everyone deserves a beautiful home. We can provide it. If your house feels a bit stale and you're ready for a change, rethinking every aspect with interior design might be the best choice.
Contact Us Today to Transform Your Home