Skip to Content
Custom Window Treatments for Wyckoff, NJ Homes & Offices
Revitalize Your Home with Help from Michael Felice Interiors
Your home's décor says a lot about your values and personality. Although many people overlook their home's window treatments, you shouldn't because they help give your home more curb appeal. Blinds, shutters, and shades also afford you privacy and UV protection. While you have your pick of the litter on window coverings at your local big-box retailers, custom window treatments are created with your specific window needs in mind. When you want the very best custom window treatments for your Wyckoff, NJ home, or office, turn to the experts at Michael Felice Interiors. Although custom window treatments may cost a little more upfront, you can feel confident in their superior workmanship when compared to the ready-made window coverings found in stores. If you'd like to explore the benefits in further detail, please reach out to us and request an in-home or virtual consultation with our team.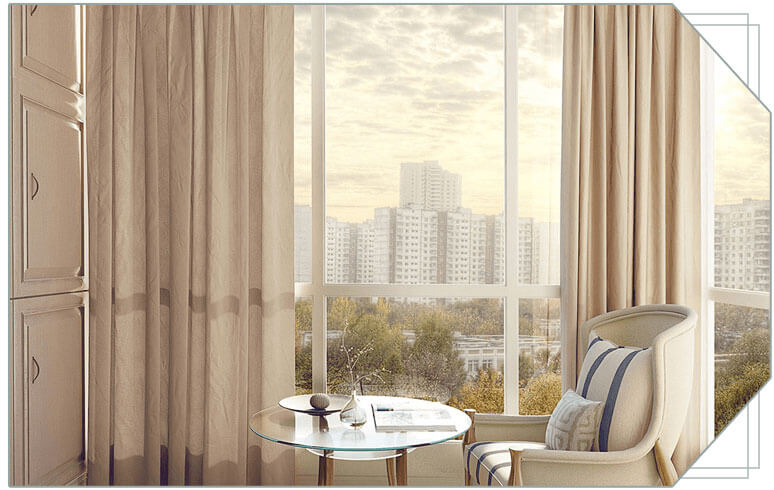 Window Covering Services Suitable for Any Window or Door
Our custom window covering services allow you to choose the colors, materials, and styles you want to create coverings that are sized to fit your windows precisely. You won't have to worry about what's in stock at the store and whether they have colors to complement your home's paint scheme, flooring, and furniture. Custom coverings are suitable for any room of the house, including your kitchen, dining room, living room, bedrooms, and bathrooms. Don't forget to dress up the windows on your front, patio, sliding, or French doors. Working with our interior designers allows you to achieve a look that will make your home the envy of the neighborhood. Don't settle for ill-fitting, ready-made window treatments again. Rely on our team to take accurate measurements and help you create the perfect look for your windows. Whether you prefer a trendy or timeless style, we'll help you achieve your aesthetic goals!
How to Select the Best Window Treatments for Any Room
When redecorating any room, it's essential to select the appropriate window treatments to complement the rest of its décor and create the desired ambiance. However, it can be daunting figuring out how to decide. When you want a more formal look, such as in your living room, you can't go wrong with beautiful floor-length draperies. If you need window coverings for your bedroom or kitchen, shades or blinds might be a more practical choice. Adding sheer fabrics will help you create a layered look to give the space more depth. Here's a quick rundown on the most popular window treatments we offer:
Draperies – Many people think the idea of window draperies is a bit outdated, but they can help elevate the appearance of any window. Window draperies are versatile, durable, and thermal to retain heat from the sun for improved energy-efficiency. Although we don't make curtains and valances in-house, we pair with suppliers who use the highest quality materials for longevity.

Valances

 – Valances soften the look of windows, especially when they're paired with blinds, shutters, or shades. We offer valances in several materials, including silk, cotton, satin, and jacquard. Valances are perfect for any room, including the kitchen or bathroom.
Blinds – Blinds come in numerous fabrics, textures, shades, colors, and tints. They give you desired privacy but are also sheer enough to allow sunlight to stream through your window. Many blinds also come with built-in child safety features, including retractable cords, breakaway cord stops, or motorized operation without any cords.
Shutters

 – Shutters allow you to improve your home's ventilation while also giving you privacy and better light control. Shutters are durable and are often used to protect homeowners from the elements, especially during storms and hurricane season.

Roman Shades

 – Roman shades have a timeless quality to them, as they've been around for centuries in various forms. They can be flat for a modern look or teardrop-shaped or looped for a classic look. They're available in many types of fabric to suit every home's unique style.
Schedule a Consultation for Our Window Treatment Services
Could you use some home design inspiration? View our portfolio to get ideas about how your new custom window treatments will transform your Wyckoff, NJ home. No home makeover is complete without the perfect window coverings, and Michael Felice Interiors would be happy to help you make the best choices for your home's layout, lifestyle, and budget. Contact us today to schedule an in-person or virtual consultation or stop by our showroom to see fabric samples and more.
Contact Us Today to Transform Your Home